I decided to showcase the fabulous MDF Advent Calendar which comes with the drawers and all the numbers!
I was late in getting mine all finished, but have no fear because it's going to get plenty of use throughout the next year as desk storage for my charms, buttons and similar!!! The top "25" plaque is completely removable too, making it so versatile!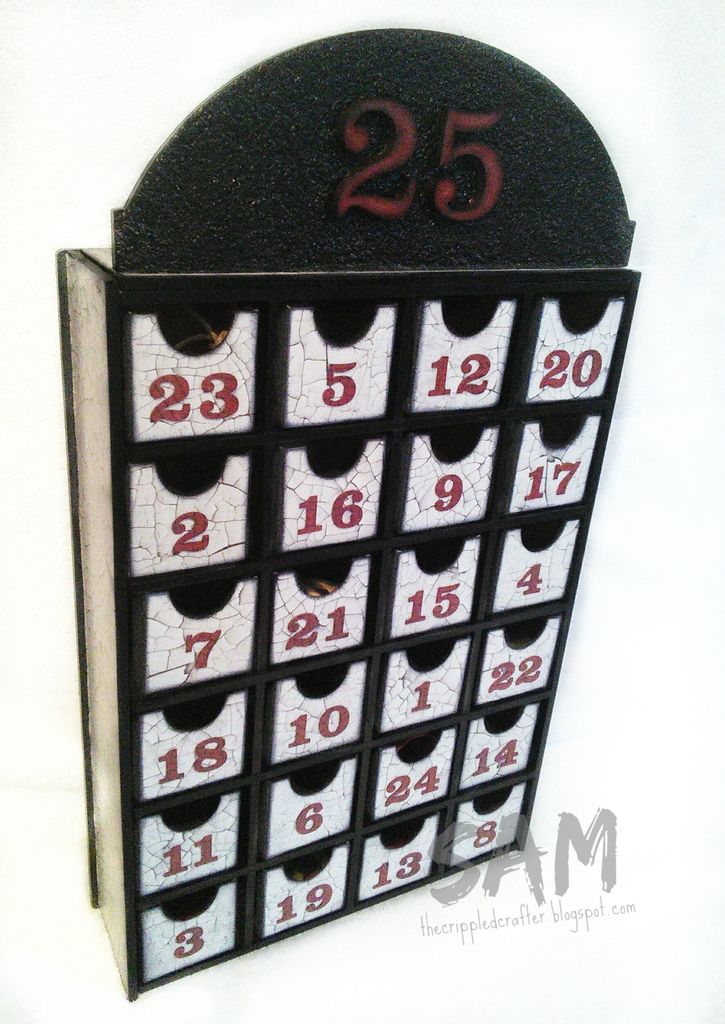 - - - - - - - - - - - - - - -
I used the following materials:
THAT CRAFT PLACE MDF / GREYBOARD
MDF Advent Calendar
MEDIUMS USED
Black Gesso
DecoArt Crafters Acrylic (Black)
DecoArt Media Fluid Acrylics (Quinacridone Gold)
DecoArt Ultra-Matte Varnish
Mod Podge Matte
Archival Ink (Jet Black)
OTHER PRODUCTS USED
Craft Consortium Découpage Paper (oh my god, this is lush!)
All products above available from

That Craft Place

.
ANYTHING ELSE
Cheap coarse glitter from my stash!
Tim Holtz Graph stamp
- - - - - - - - - - - - - - -




Summary

Process

:

All MDF pieces painted with black Gesso before constructing the advent calendar.

(Be sure to avoid the "tabs" when adding any mediums or papers to the pieces otherwise you may encounter difficulty putting the advent calendar together).

Creased, folded and glued all of the drawers together.

Mine came with 2 extra drawers which is very handy if you make a mistake along the way!

Inside of the drawers painted with a few coats of the Quinacridone Gold fluid acrylic before finishing with a coat of Ultra-Matte Varnish, also by DecoArt.

I then painted the outside sides and back of the drawers with black Crafters Acrylic. This then left the front of the drawers, to which I glued the Craft Consortium paper, using a sanding block to remove the excess.

I finished off the outside of the drawers with a coat of Mod Podge Matte before inking round the top rim of the drawers as well as around the front.

The advent calendar comes with everything you need, including all the numbers for the drawer fronts! I painted them with the same Quinacridone Gold paint before stamping them all randomly with the Tim Holtz Graph stamp, using Archival Ink in Jet Black.

I also used cardstock, a snowflake die set by All Occasion Dies and some ribbon/twine for the little cards tucked into each drawer. The cards had a mixture of romantic notes for my wife on some, and activities such as "Christmas Movie Night" and "Today is your day to relax" on the others!

- - - - - - - - - - - - - - -
Here are some more photos:
xxSAMxx
Please can I enter this project into the following challenge(s):